by Kathy Patalsky · updated: · published: · About 5 minutes to read this article. 1 Comment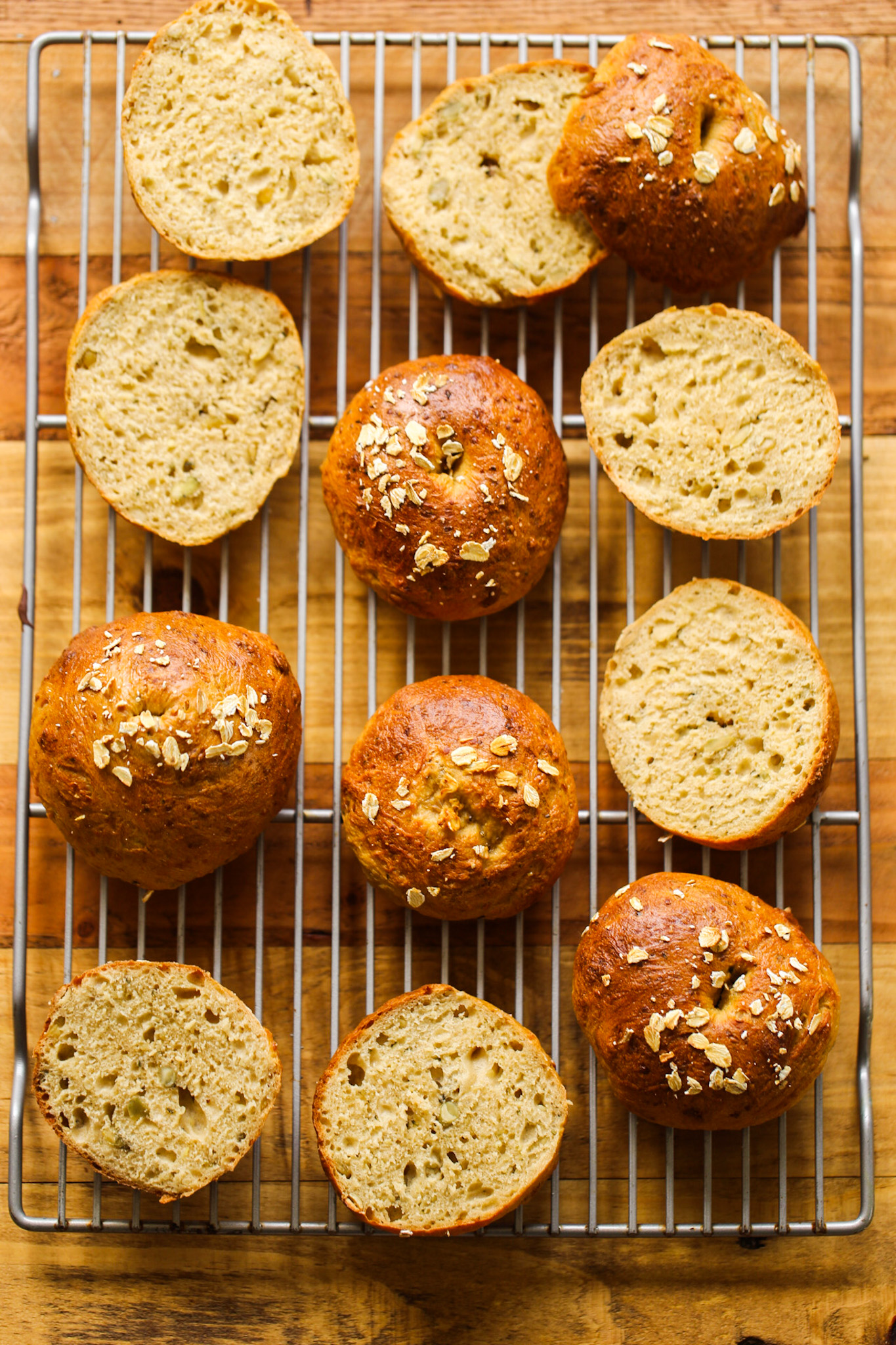 You already know that bagels are basically my go-to item of 2020. I am a bit obsessed with baking them, eating them and sharing them with you guys. These Pumpkin and Hemp Seed Bagels are my favorites so far because they are loaded with healthy, protein-rich hemp and pumpkin seeds. At first I figured I would add any seeds as coating to my bagels, but discovered that both hemp and pumpkin (two faves for health) burn very easily. So I folded them into the dough and that process works perfectly!
Get the recipe and become a bagel baking expert in no time!…
Bagels with Seeds
Do you love an everything bagel like I do? Well these Pumpkin and Hemp Seed Bagels actually include loads of healthy seeds in a different sort of way. The seeds are inside the bagel, rather than as coating. Of course, I do love some textured toppings on my bagels so I have options for that.
Bagel Seed Toppings That Work
Some seeds and nuts burn very easily. So instead of putting those items on top of bagels, you can fold them into the dough! But if you love a coating on a bagel (like me!) here are a few options that work well:
poppy seeds
white sesame seeds
coarse sea salt
dried garlic bits or even garlic granules
rolled oats! (I tried that on my first batch of these bagels and liked it!)
I find that the freshly boiled bagels can be coating in seedy toppings very easily. But if preferred, you can brush a vegan egg substitute like JUST egg over top before coating and the baking.
My Fave Seed Brands
I definitely buy the same seed brands over and over. These are the two I used for these bagels and all my hemp and pumpkin seed needs…
Go Raw Sprouted Pumpkin Seeds – I love these! They are crunchy instead of rubbery and have a subtle salted flavor that I adore. I love them on top of smoothie bowls too.
Organic Hemp Seeds – I am less brand-loyal for hemp seeds. I just make sure that they are organic. I like Manitoba Harvest and Nutiva, just to name a few. But the Whole Foods brand is also great!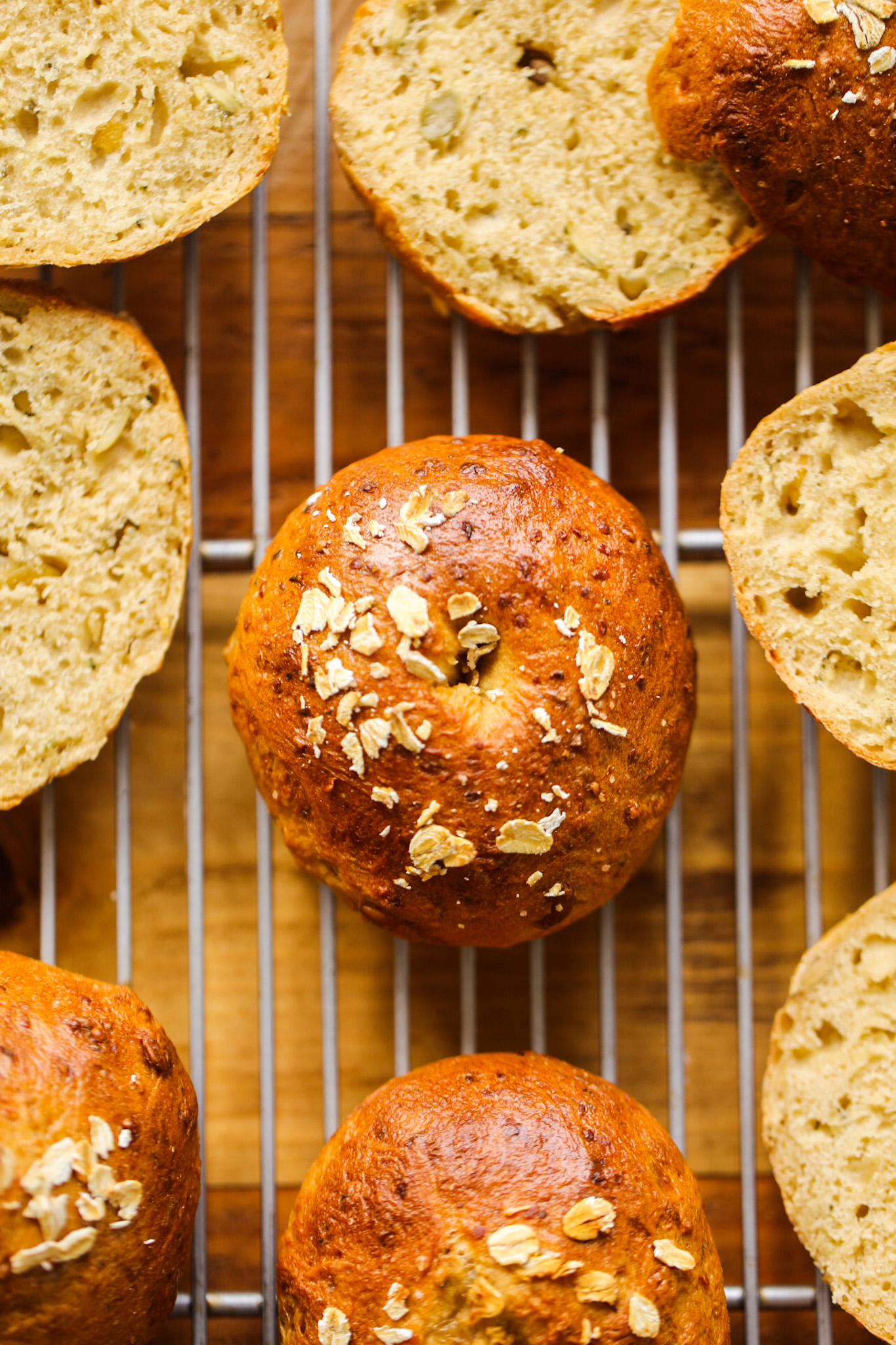 Protein-Rich Bagels
It isn't easy to load up bagels with protein and still make them delicious and well-textured. But I think these Pumpkin and Hemp Seed Bagels do a pretty good job because of all the seedy goodness in each bite. They contain around 10-12g of protein in each medium-sized bagel, which is good! Larger bagels will contain around 15g.
Another protein adder is the type of flour you use. Bread flour contains more gluten – and thus more protein – than all-purpose flour. Learn more about this on Bon Appetit.
If you want an added boost of protein, experiment with subbing out 1/4 cup of bread flour for 1/4 cup of plain vegan protein powder – or even vital wheat gluten. The texture will vary a bit, but you will get a heavier boost of protein.
Or you could simply add more hemp or pumpkin seeds – two excellent forms of healthy fats, fiber and plant-based protein.
Some sesame seeds as coating for another batch of my Pumpkin + Hemp Seed Bagels…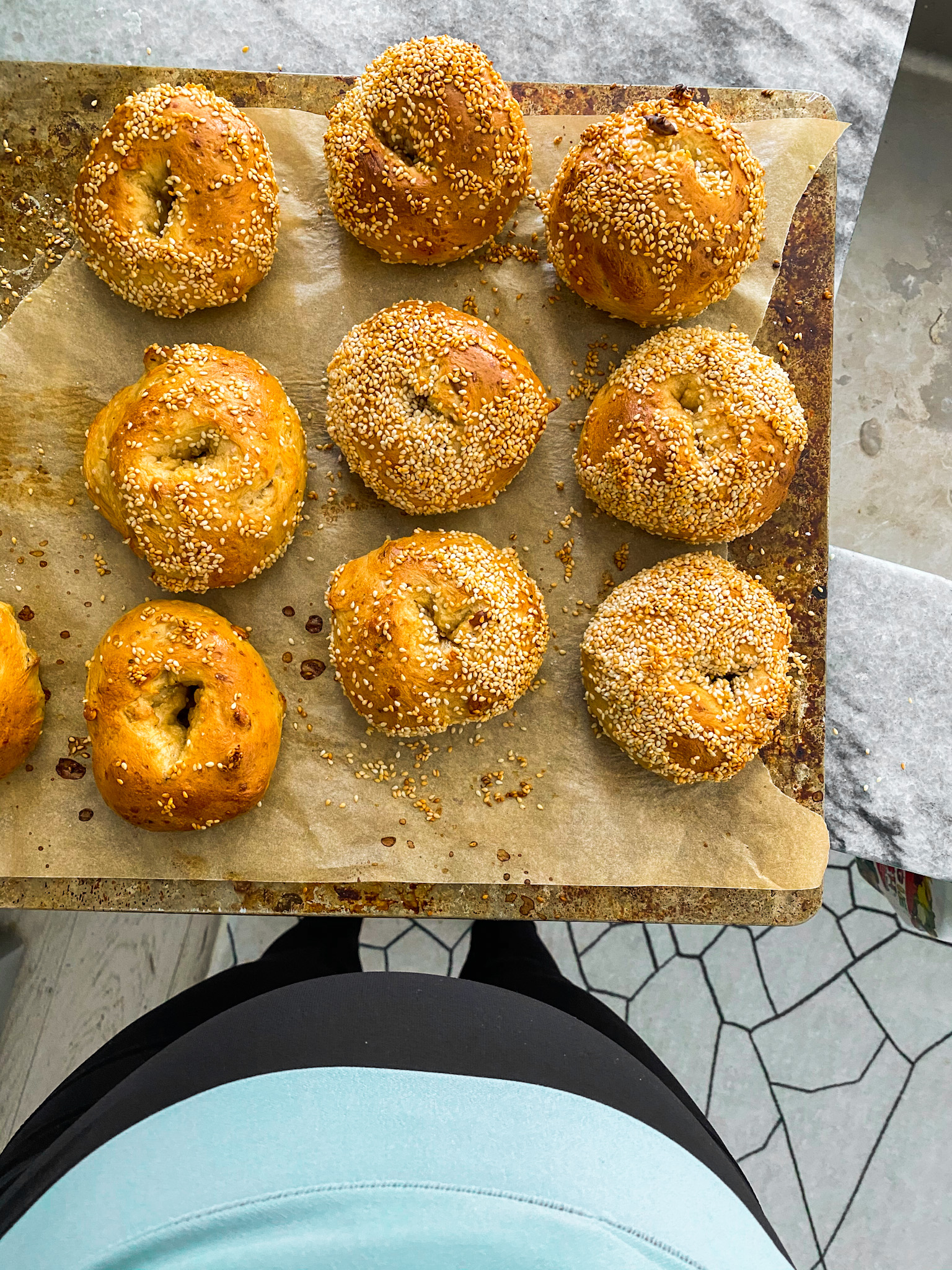 How to Serve Pumpkin + Hemp Seed Bagels?
I love these bagels four ways….
1 – Avocado toast bagels! Easy. Avocado, lemon, some EVOO, salt and maybe more seeds on top.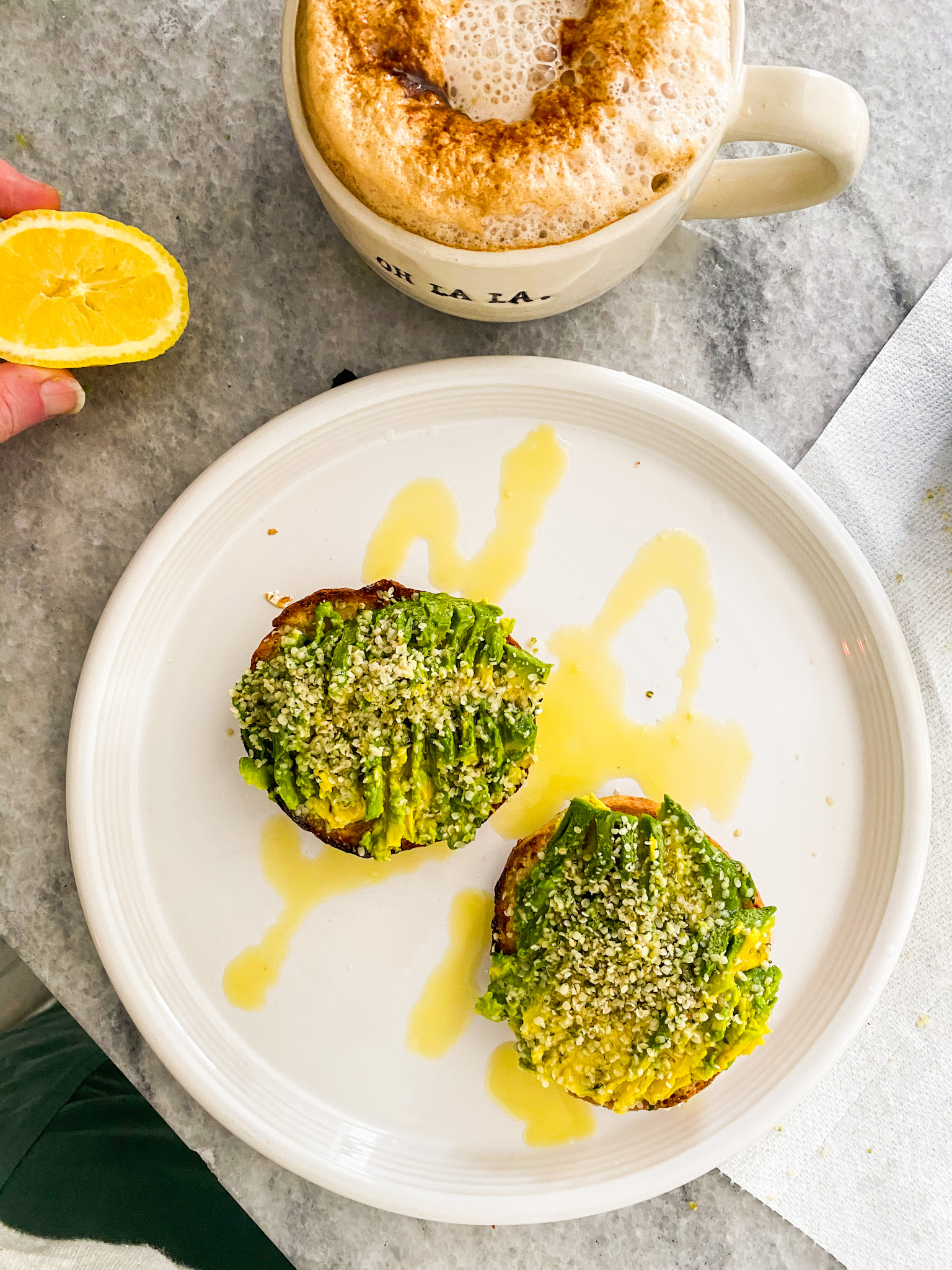 2 – Bagels with vegan cream cheese. I love Kite Hill the best.
3 – Bagel breakfast sandwiches. Vegan sausage and/or vegan egg, vegan cheese, strawberry jam, some greens. That is the go-to recipe in our house.
4 – Bagel lunch sandwich. Think hummus, sprouts or lettuce, maybe freshly sliced tomato, roasted red peppers and any other veggies you want to pile on. This works with spicy mustard and vegan cheese too in place of hummus.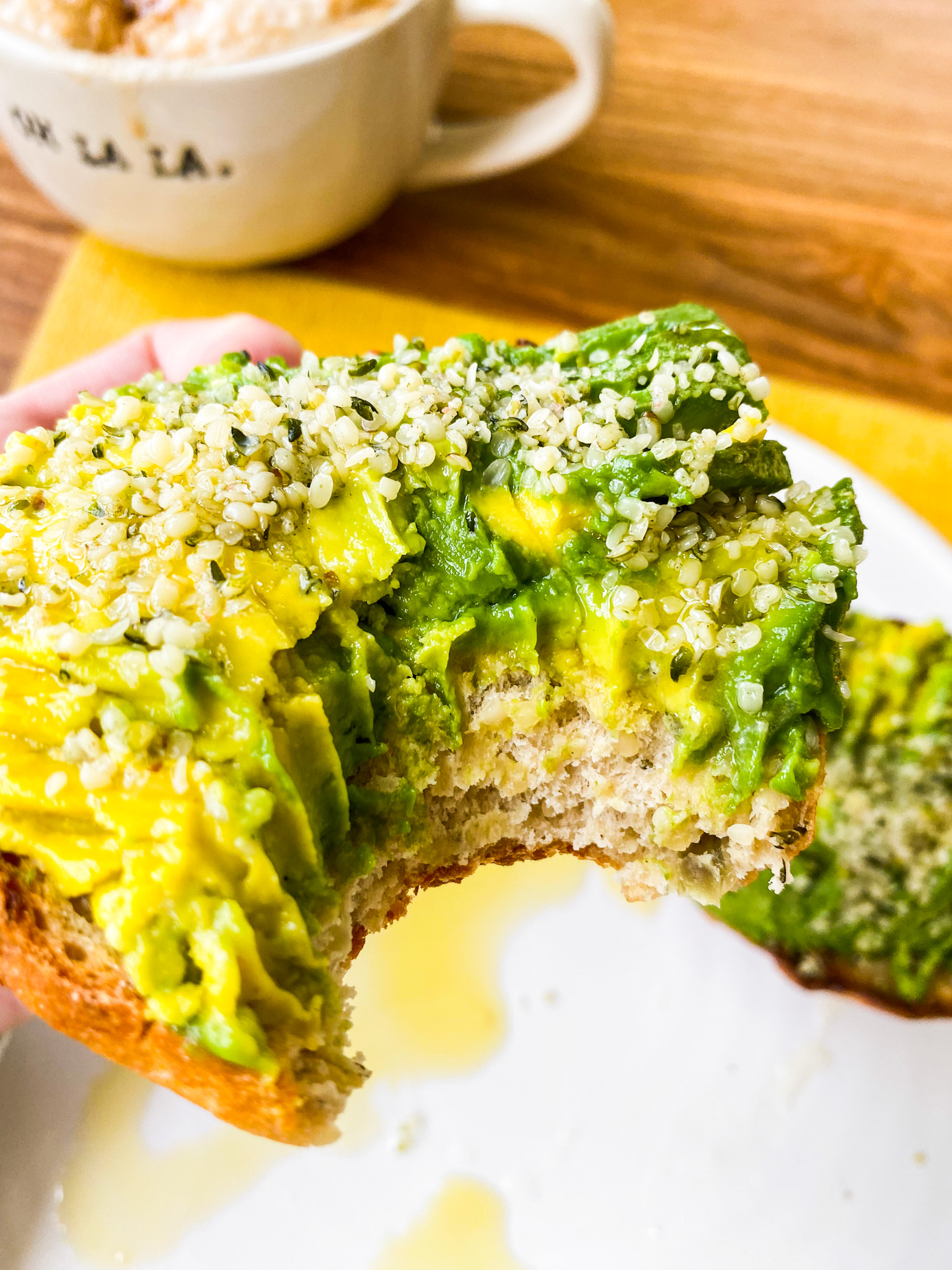 How to Become a Bagel Baking Expert!
I am hoping all the tips I have shared on my bagel posts thus far have helped. But if you have any questions, DM or comment her. Here are my bagel baking posts thus far…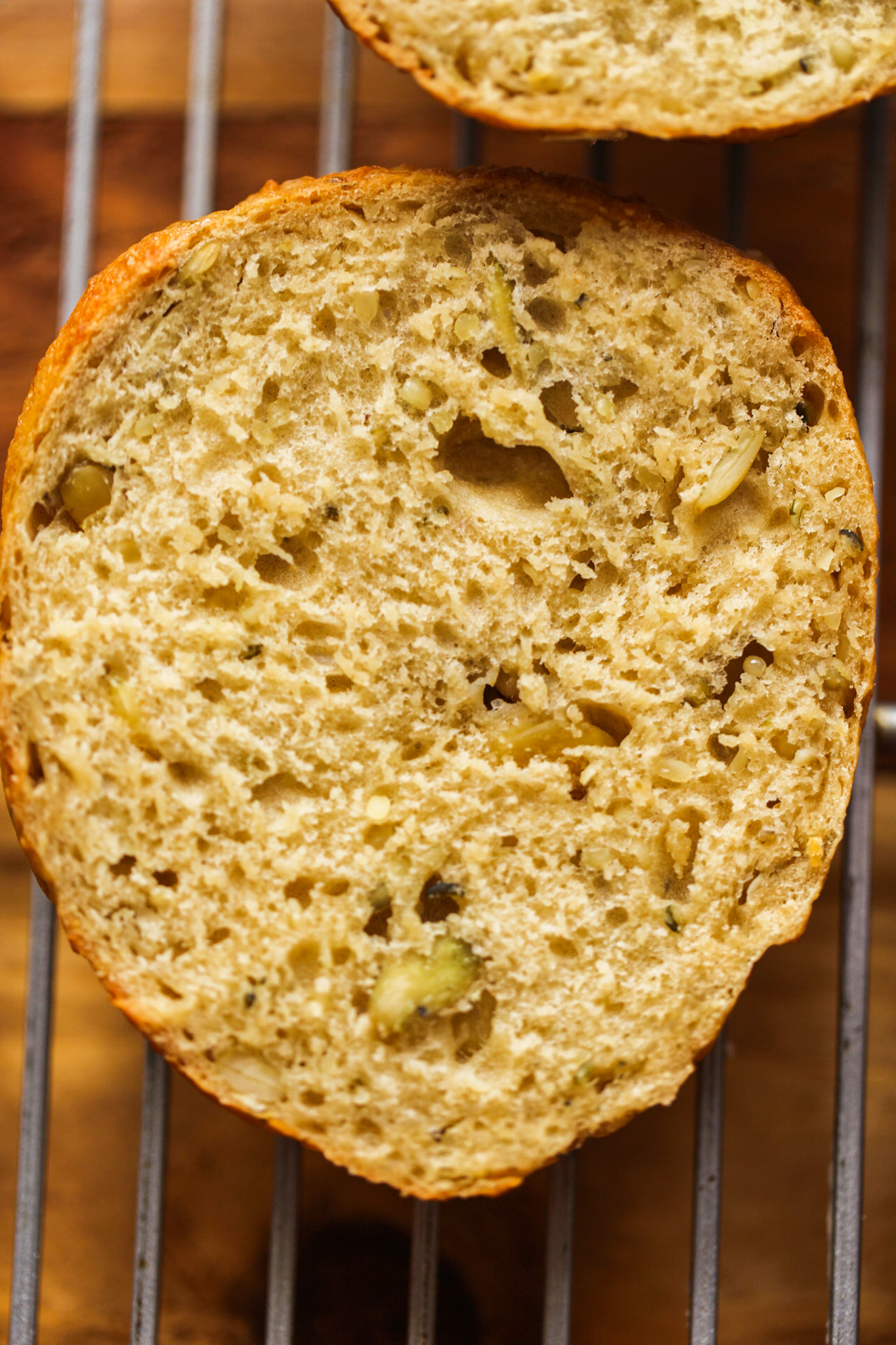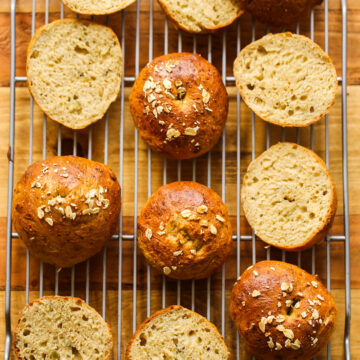 Pumpkin and Hemp Seed Bagels
These fluffy, chewy, seeded bagels are rich in healthy fats, fiber and even plant-based protein!
click the stars to rate
Prep: 2 hrs
Cook: 25 mins
Total: 2 hrs 25 mins
Servings: 9 bagels
Ingredients
1 1/2

cups

warm water

1

Tbsp

yeast

2

tsp

salt

3

Tbsp

coconut sugar

,

or another natural sweetener

2

cups

bread flour

,
Fold in:
1/2

cup

hemp seeds

1/2

cup

pumpkin seeds

,

sprouted, shelled + salted
Topping:
1/3

cup

sesame seeds

,

— or rolled oats sprinkled on top
Boiling:
3

Tbsp

barley malt syrup

,

or coconut sugar or maple syrup
Equipment
soup pot

baking sheet

large strainer to scoop bagels from water

large mixing bowl
recipe author: Kathy Patalsky
Notes
If you do not have bread flour, use 1 3/4 cups all-purpose flour and add in 3 Tbsp vital wheat gluten
nutrition estimate | per serving
Calories: 234kcal | Carbohydrates: 27g | Protein: 10g | Fat: 10g | Saturated Fat: 1g | Sodium: 527mg | Potassium: 95mg | Fiber: 2g | Sugar: 3g | Vitamin A: 58IU | Calcium: 75mg | Iron: 3mg
bread
American
bagels, baking, hemp, protein, pumpkin, vegan
Pin these Pumpkin and Hemp Seed Bagels for later!…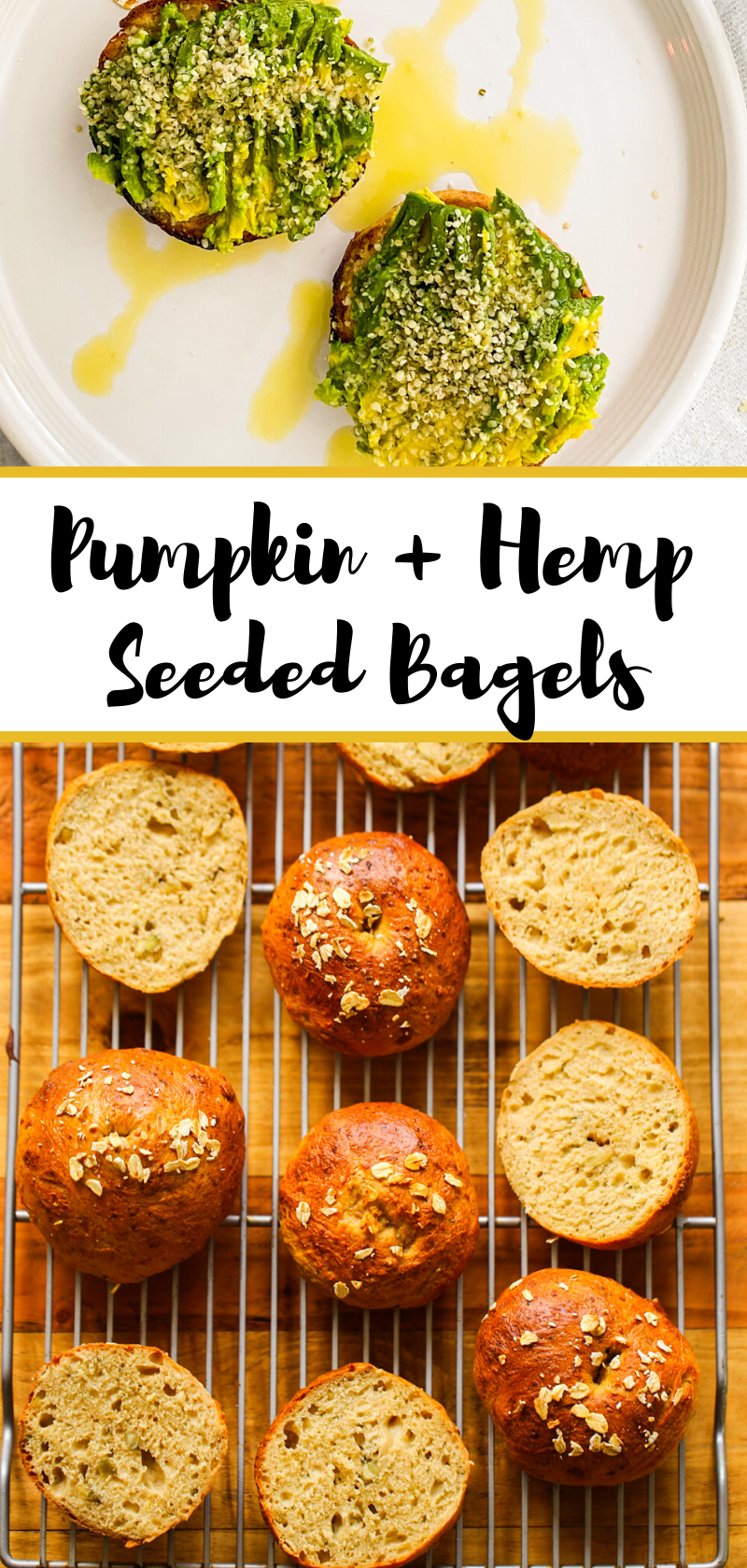 About
Kathy Patalsky
Hey there! I'm Kathy, lover of kitty cats, weekend baking, 90's movies, travel, beach fog and foamy lattes. Since 2007, I have been sharing my vegan recipes and photos. My goal is to make your cooking life a little easier, delicious – and plant-loaded – while sharing some LIFE and conversation along the way.
CBD Oil, The 9 Best s About Cannabinoid
Find out more